Post by morningstar on Feb 2, 2015 20:01:23 GMT
Many Christians are not aware of the deception that's in our Church and especially in these "New" Bible translations that are inundating the Church. Even if a book is labeled "Bible" it's taken for granted that it must be good and because of lack of discernment they assume it is God's Holy Word and are mislead into this deception.
NTEB
Eugene Peterson's 'The Message' Is A New Age Perversion Of The Bible
By Geri Ungrean
The list of prominent people in the Christian world who endorse this evil work is beyond belief
"Now the Spirit speaketh expressly, that in the latter times some shall depart from the faith, giving heed to seducing spirits, and doctrines of devils." 1 Timothy 4:1 (KJV)
I have looked at The Message a few times in the past years, and I saw it as a blatant perversion of God's Holy Word. I just thought that someone tried to make the Bible "hip" or more relevant for our times. But now I am seeing clearly that this unholy mess is completely New Age. I will show the readers of this article why I know that The Message is New Age.
The Message has sold over 10 million copies. The list of prominent people in the Christian world who endorse this evil work is beyond belief. The list of names will shock you. On the other hand, the endorsement by Rick Warren was expected. Not only does he lack discernment, but he is waging war on Christianity with his devilish "Chrislam."
First, let's start with the author of this mystical mess. His name is Eugene Peterson. He was the pastor of a Presbyterian Church USA for 29 years. He was Professor of Spiritual Theology at Regent College in Vancouver, British Columbia until he retired in 2006.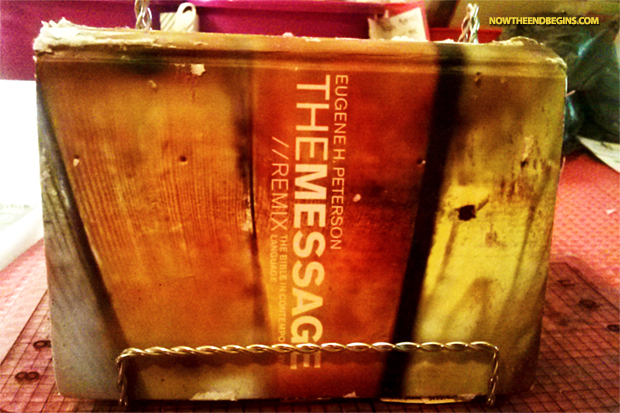 "The Mess calls Jesus "Master" over 400 times and the unique New Age phrase "Master Jesus" appears 76 times! The only other Bible I found "Master Jesus" in was the New Age Bible titled The Aquarian Gospel of Jesus Christ!

What is Spiritual Theology?

"Spiritual theology is a branch of theology that emphasizes living "in the spirit" instead of "in the flesh." In other words, it is concerned with how a person grows and develops spiritually. The term spiritual theology is most often used in Catholic circles, where it involves the exploration of the works an individual must perform in order to advance to "perfection" in the Christian life. Spiritual theology is seen by Catholic theologians as the uniting of the theologies of aestheticism and mysticism."

He has written many other books. Here are the titles of some of his works:
Traveling Light: Modern Meditations on St. Paul's Letter of Freedom (Helmers & Howard Publishing, 1988)
Wisdom of Each Other: A Conversation Between Spiritual Friends (Zondervan, 2001)
The Contemplative Pastor: Returning to the Art of Spiritual Direction (Wm. B. Eerdmans Publishing Company, 1980) [2] – source

Mr. Peterson has written many other books, but the titles of those listed here are quite telling. I will show you that Eugene Peterson is a New Age teacher, and that his purpose in writing The Message was to draw unsuspecting Christians into New Age practices.

Satan's Plan

Let us look first at the agenda of Occultists for Bible believing Christians:


1. CHRISTIANITY MUST EMBRACE MYSTICISM
2. DOCTRINES ABOUT THE BIBLE REJECTED
3. BIBLE TO BE INTERPRETED AND TAUGHT ALLEGORICALLY, NOT LITERALLY
4. CHRISTIAN DOCTRINE TO BE CHANGED
5. NEW BIBLES WILL CONTAIN NEW GOSPEL AND NEW MESSAGE
6. MYSTICISM TO BE TAUGHT IN CHRISTIAN AND JEWISH SEMINARIES
7. MYSTICISM TO BE MADE ACCESSIBLE TO AVERAGE PERSON
8.THOSE TEACHING MYSTICISM TO THE CHURCH WILL DENY IT
9. NEW AGE MYSTICISM TO BE PROMOTED BY THE CHURCH AND MASONRY
10. MYSTICISM WILL BECOME THE UNIVERSAL RELIGION THROUGH THE ECUMENICAL MOVEMENT
11. WORLD BIBLE TO BE BASED ON MYSTICISM
So, those are Satan's plans for the world.
In an earlier article I wrote on the Lucis Trust, I exposed the U.N. for their plans to bring "Enlightenment" to all the world through New Age teachings. We can see clearly that Satan is scheming on every level of our lives. The ONLY thing that will keep us safe is the Word of the Living God – and reading it daily!
Click Link for Full Article
Fair Use for Discussion Purposes