Post by morningstar on Mar 7, 2021 20:41:49 GMT
NTEB
1984: Simply Stunning As People Have Come To Accept This Dystopian Nightmare Of COVID Lockdowns And Isolation As The New Normal

By Geoffrey Grider
The Wenatchee High School bands' performance space has gained wide attention not only within the city of Wenatchee, Washington, but nationwide, reaching outlets from the BBC to Jimmy Kimmel Live! The photos—including one of a student crammed inside his small tent with a sousaphone, which couldn't be comfortable—have led some observers to speculate that these kids were forced into this situation and that this is surely a sign of the apocalypse.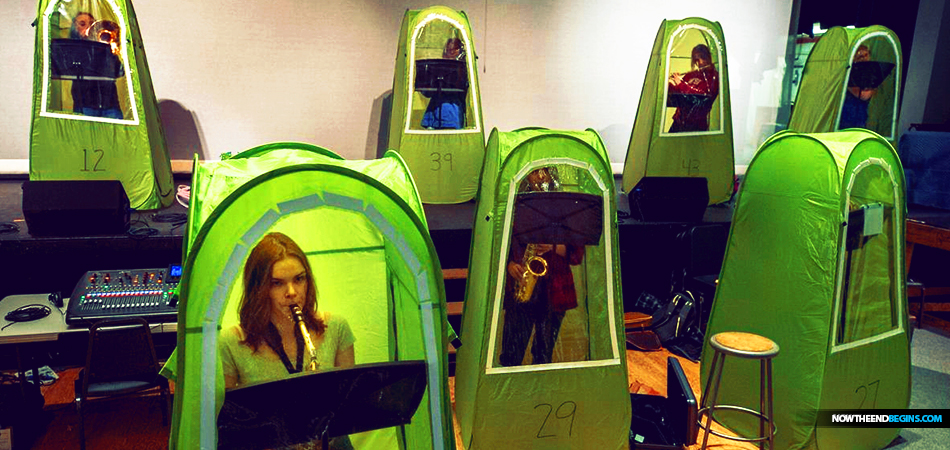 Photos of pandemic life rarely come as instantly iconic as these: a group of high school band students practicing together in a rehearsal room, each playing in an individual green tent, their faces and instruments visible only through a narrow plastic window.
Just like with climate change, the driver is not science and logic, but fuzzy feelings and a globalist agenda that must be adhered to or face the avenging wrath of the true believers and adherents of this weird end times religion. Think of it like the 'hands up, don't shoot!' of the virologists, doesn't matter if it's not true, just keep repeating the mantra.
The amount of people who have died from COVID-19 pales in comparison with other global outbreaks like the Spanish Influenza Panic of 1918 where 50,000,000 people died from contracting the flu. To date, 2.5 million people have died worldwide from COVID-19, more than 95% less than those that died in 1918, yet we are treating it like it's the worst outbreak in modern times, it certainly is not. What it is is the rise of the New World Order, nothing more and nothing less.
I will not wear a mask, I will not take the jab, and I will never allow them to put me in a 'safety pod' like lunch menu items at the Horn & Hardart automat. Remember that all this primarily a spiritual battle and a war on your mind to get your to change you thinking. It is the spirit of Antichrist that is right now preparing the way for the appearance of the man of sin.
The pictures were taken by Don Seabrook, photo editor at local newspaper the Wenatchee World, for a report published Wednesday on how students at local high schools were adjusting to in-person learning during the pandemic.
Continue reading.....